For social community managers, it is always important to find inventive ways to engage existing followers and entice new ones. Strengthening social community ties is crucial to creating passionate and loyal members. But, how do you find that right approach? Pentair, a global pool and equipment manufacturer, decided to test the waters, and Blue Flame Thinking helped them implement a unique strategy that united customers and reenergized the brand. Here are some of the ideas we kept in mind as we were building.
Identify the need.
Start by looking at what your community is asking for, or missing, and build your social platform to facilitate a solution. Pentair's social community site, poolfyi, began by recognizing a need. The company's existing social site was geared toward pool professionals and manufacturers, but more needed to be done to include pool owners and enthusiasts. It was this insight that informed the design, function and focus of the new site. Understanding the target audience is vital, and conducting deep research and discovery around their needs and digital behaviors as the site is developed is crucial to building a thriving community.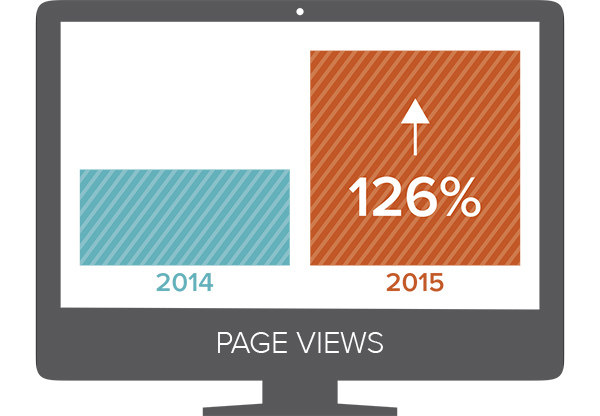 Test and measure constantly.
Let the numbers tell you what type of content is most valuable to your users, and then tailor what you offer to those preferences. For example, new blogs are being written for poolfyi based on detailed traffic analyses of existing content. Instead of just looking at social engagements, like comments and shares, dig deeper into data and analytics around reading time and topic analysis. In this way, users are being served fresh, relevant content that they want to see.
Solicit user engagement to generate new content.
One of the most important aspects of a social community forum is user participation. The more a user contributes, the more invested they feel. Members of the poolfyi community are encouraged to submit blog posts or comment on what they've read and found valuable. Work closely with your most engaged audience members and enable them to be larger influencers within the community by highlighting their content in exclusive articles and features.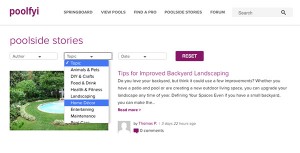 Use sorting and tagging features to drive users to additional content.
Guiding users toward content they may find interesting and informative not only increases their time on site but also makes what you're offering more valuable. One way to do this is through the use of sorting and tagging features. In the case of poolfyi, users are presented with relevant content in the left column of the page based on the article they are currently reading. They're also able to sort through pages of content quickly and easily using a set of keywords that is most relevant to the main topics on the site. The easier your audience can find the content they need, the more satisfied they will be with their on-site experience.
Match your site's capabilities with your audience's tendencies.
Keeping a careful eye on your analytics will tell you a lot about your users' behavior and allow you to adapt accordingly. The analytics for poolfyi revealed a high level of mobile traffic with low time on site and high drop rates. Additionally, watch for traffic increases and drops in certain portions of your site to understand if content becomes more or less relevant to your audience over time.
These are just a few ideas for building a better social community. Interested in continuing the conversation? Contact Andrew Swanson at 616-559-2290 or aswanson@blueflamethinking.com.