Mobile apps are everywhere
With the swipe of a finger on your incredibly smart phone or tablet, you can turn off your lights at home, order a pizza, transfer funds to your checking account and call for a ride almost anywhere in the world. Thanks to apps, your personal life has never been easier or more empowered.
But, what about the use of custom apps in business? The formula is simple: Access = Success. Imagine the members of your sales team with unlimited access to proprietary information and data that go far beyond your website or company intranet. Suddenly, confidence and productivity can reach new heights, right along with your sales.
According to Josh Stauffer, director of digital strategy at Blue Flame Thinking, apps are the new normal for a successful sales organization:
"Mobile apps can be an effective solution to help translate complex product and business challenges into a tangible interactive medium. If done right, they can function as both critical sales tools and educational material for an organization that extend far beyond the four walls of any office. In fact, here are five ways a custom app can help you build your brand and business:

Communicate the benefits of your brand in a modern, interactive way.
Articulate the value proposition behind a complex product or service.
Train an external sales force or distribution network.
Generate powerful user and consumer insights through built-in analytics.
Test and learn through iteration with a captive user base."
You probably already have a mobile-friendly CRM system, which is great for customer contact details, notes, past-order histories and correspondence. Adding a custom app can provide more marketing power with everything from constantly updated product specs to inventory data to custom calculators that instantly prove the value of a purchase. Your wired sales team is plugged in, networking and converting calls into orders.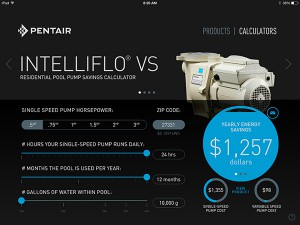 Case in point: Pentair goes deeper with Pool IQTM app
Pentair, the leading manufacturer of innovative pool products and equipment for commercial and residential use, has accumulated a massive amount of information, thought leadership and knowledge about their products and the pool industry.
Pentair salespeople, who call on pool dealers, designers and builders all over the country, needed quick and easy access to Pentair's rich and robust information. Fumbling through a stack of brochures or searching through a website was no longer practical or efficient. Our solution at Blue Flame Thinking was the creation of the Pentair Pool IQ app, a feature-rich resource that gave salespeople the power to access everything from current product features and benefits to energy-savings calculators and the ability to locate a local retail store.
"The Pentair Pool IQ app has been well received by trade and consumers alike. Its intuitive design and simple functionality make it an inviting way to learn more about our most innovative products. We see this as an instrumental sales tool in our marketing future."

Marcus G. Phillips
Director of Marketing—North America
Pentair Aquatic Systems
If you're ready to put success at your company's fingertips, contact Steve Schmieder at 312-327-5120 or sschmieder@blueflamethinking.com.