Why Social Media Should Be Included in Your Marketing Strategy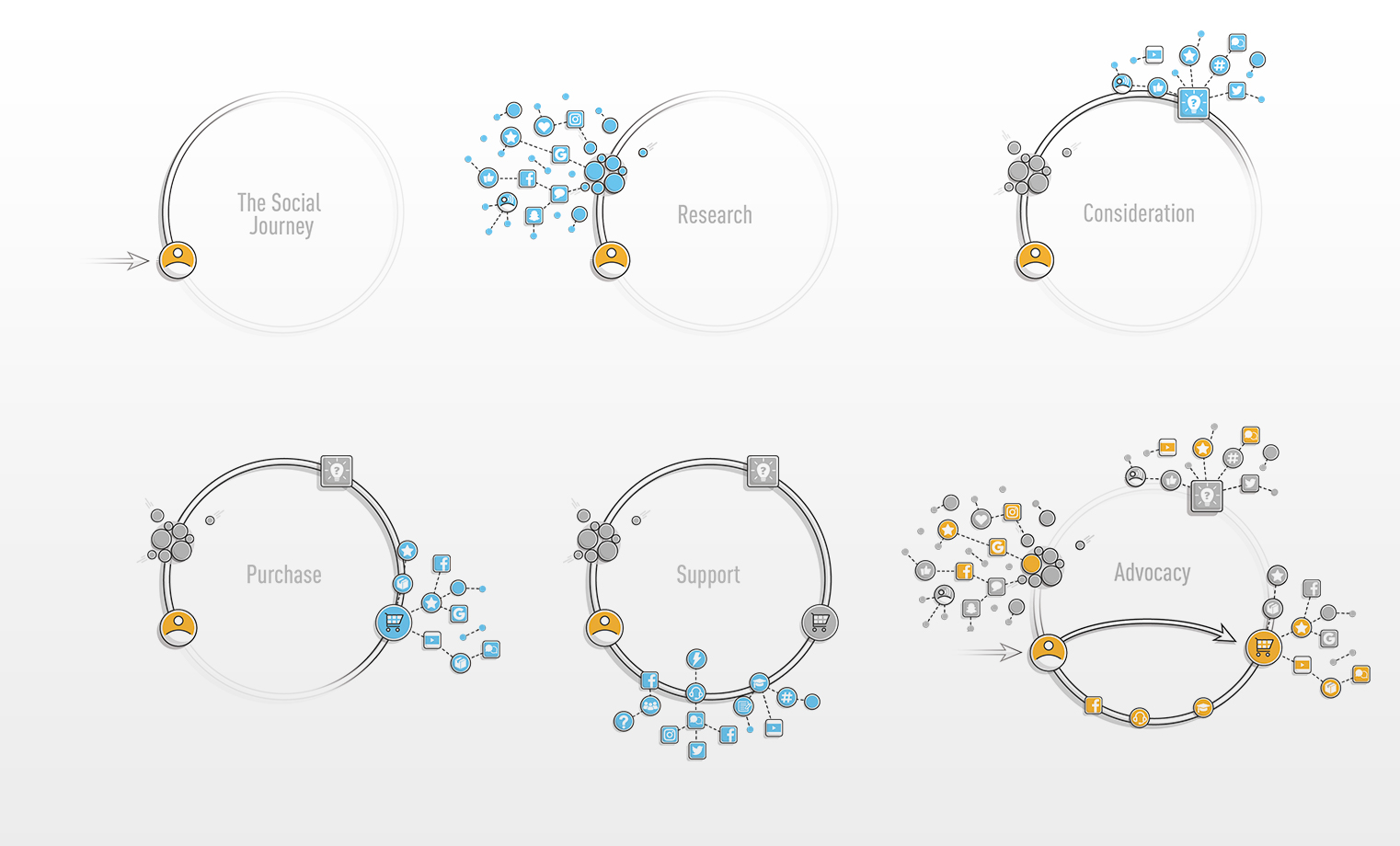 September 3, 2019 4 min read
As marketers, we are tasked with mapping the customer journey in order to understand how they interact with our brand. However, it can be difficult to pinpoint every interaction that a consumer has with us due to the many different channels that are available today. In a world where almost 3.5 billion people use social media, it's highly likely that this medium will be a part of your customer's journey.
So, why do so many companies still ignore social media in their marketing efforts? In most cases, it comes down to a lack of understanding of how social media will fit into their overall marketing communications strategy. Once this is understood, it's easy to see how social media can impact each stage of the customer journey.
How Social Media Impacts the Customer Journey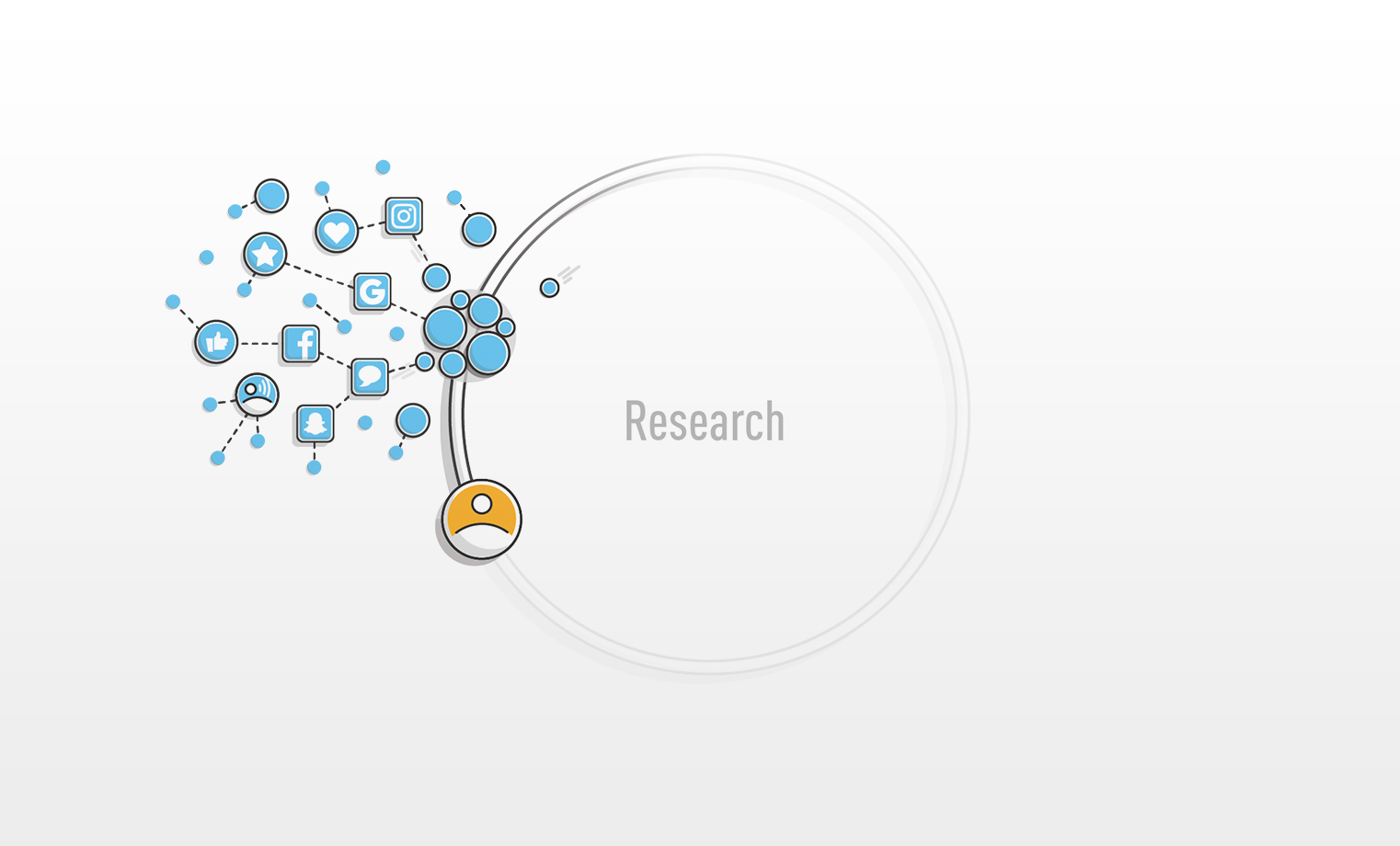 Research Phase
In the research phase, consumers are researching information to help them solve a problem or need. More often than not, consumer research is happening on the internet.
Ask yourself the following questions to understand how to make an impact in the research phase of the customer journey:
Is your company showing up in customers' search results? Because social media impacts SEO, what you are posting on your social accounts can help potential customers find you.
How are customers talking about your brand online? In a survey conducted by Dimensional Research, a whopping 90% of respondents said that a positive review influenced their purchasing decision.
How is your audience engaging with your brand on social media? When users like, comment and share your social media content, awareness of your brand grows within their networks, increasing your brand awareness.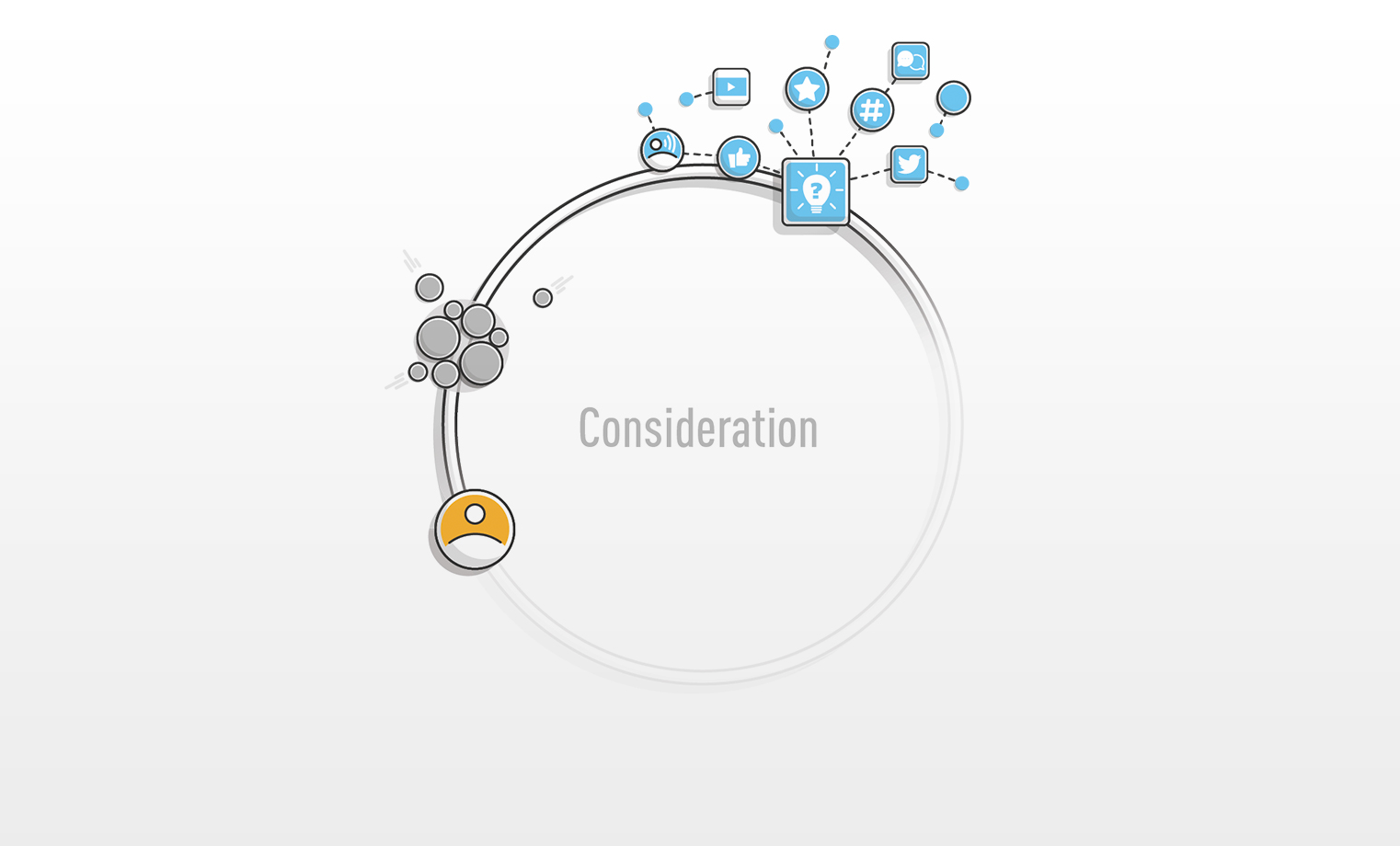 Consideration Phase
As the user moves into the consideration phase, they have likely narrowed their search to 2–3 options for purchasing the solution to their problem. The user will turn to social media to learn more about their prospects. 
In the consideration phase, potential customers will…
Ask their network on social media for opinions and knowledge of the company or to share an experience.
Watch YouTube videos or scroll through social channel pages to learn more about the company, their products and their people.
Find groups on Facebook or other social channels to learn more about other users' experiences with the products or services of the company.
You should…
Post relevant, engaging content regularly to your social channels.
Engage in conversations with relevant Facebook groups.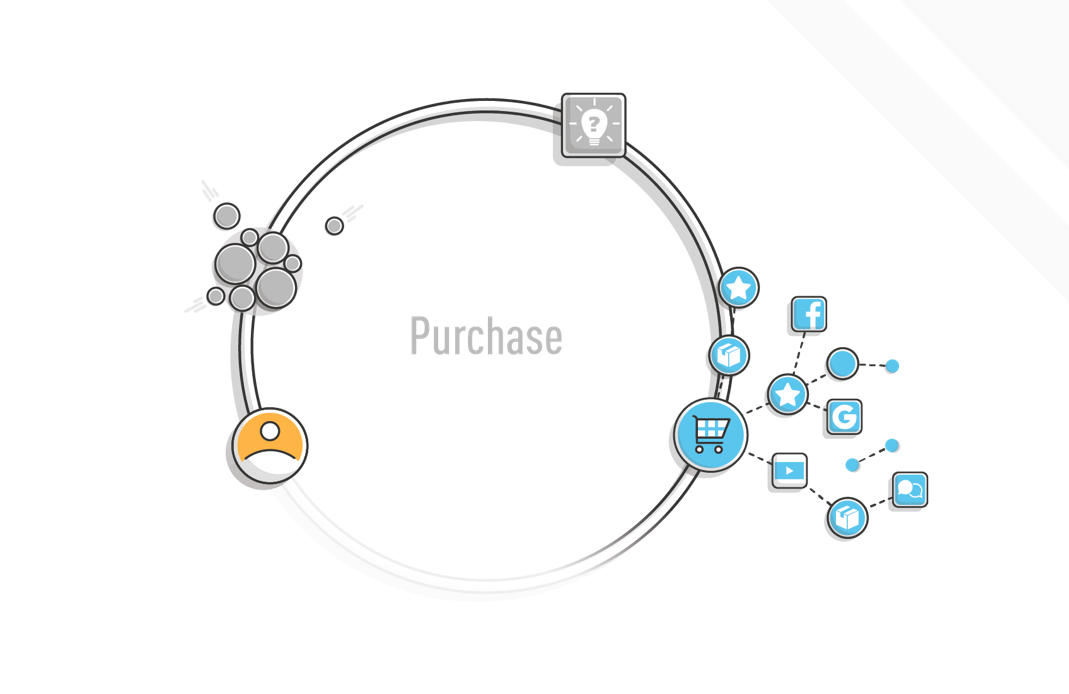 Purchase Phase
At this point in the customer journey, your prospect has decided to purchase from your company and is now a customer!
The customer might…
Post on their social networks about their excitement to receive your product or service and tag your company for increased awareness.
Create a YouTube video or "unboxing" video when your product arrives to their location.
Write a Google and/or Facebook review about their experience with your company.
You should…
Like and/or comment on the post the customer tagged you in.
Share their review/unboxing video to your channels (with permission).
Send an email encouraging your new customer to leave a review on your Facebook page.
Note: It's important to wait an appropriate amount of time before asking for a review, so the customer has the chance to interact with your product or service.

Support Phase
Once your prospect becomes a customer, there is still plenty of opportunity to support and delight them after their initial purchase. Social media is a great way to continue talking to your customers.
Support your customers after a purchase by…
Posting educational content on your social channels, such as how-to videos, maintenance tips, blog posts, additional products and services, and more.
Offering social customer support on Facebook and Twitter when they reach out with questions. Your social customer support should be quick to respond.
Using Facebook groups to answer questions or put your customers in touch with each other to provide additional support.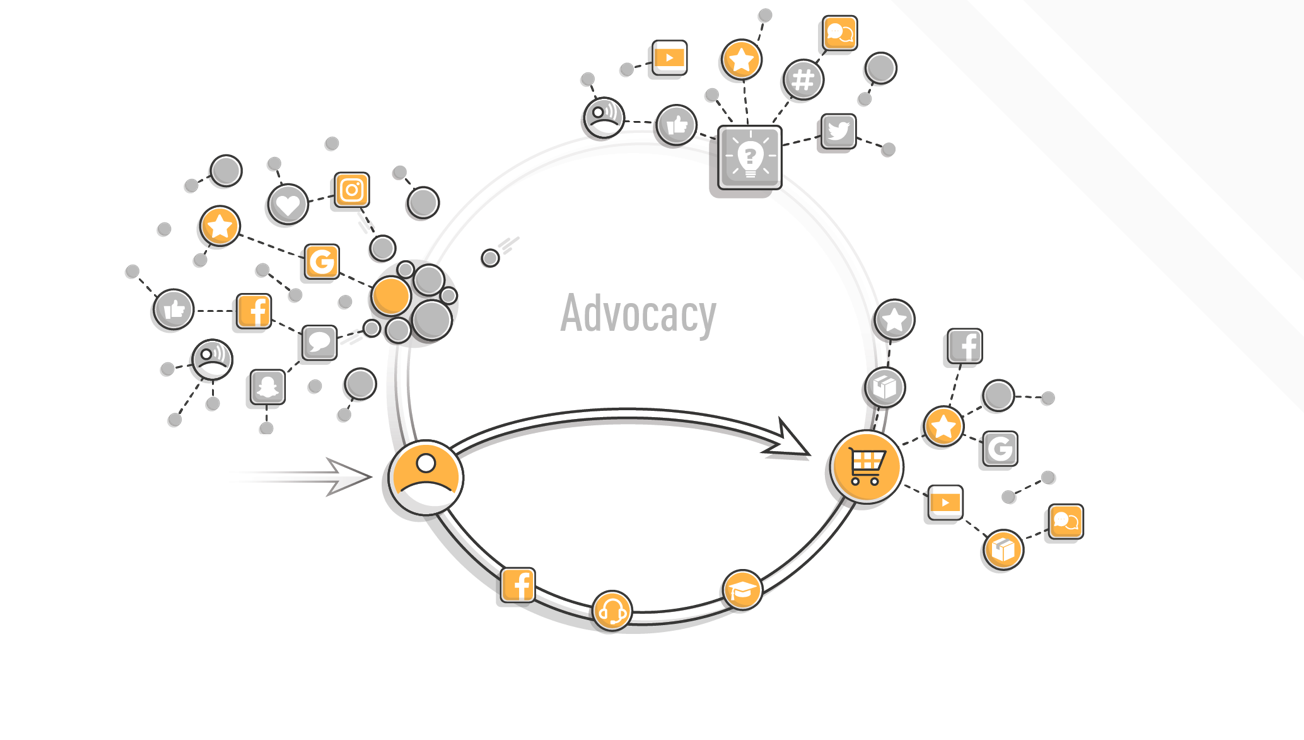 Brand Advocacy
If you have successfully delighted your consumers through the entire customer journey, they will turn into advocates for your brand. Each of your brand advocate's social media interactions will be visible when the next prospect starts their customer journey, helping that potential consumer with their purchase decision.
Remember, the point of social media is to be social! It's important to engage with your social media audience so they are sharing their experiences back with you. Offering superior support will help to encourage customers to leave reviews on your channels. Setting up special ways to interact with your brand advocates can grow your brand awareness with little effort or investment.
Social Media's Impact on Your Business
Social media provides your business with the ability to reach prospects and customers at every phase of the customer journey. The impact of these touchpoints on your business is endless, providing you with the opportunity to gain customer insights, provide better customer support, increase brand awareness and make connections with your audience.
Are you ready to kick-start your social media marketing efforts?
Let's Talk!